For our international readers:
You may use the link at the bottom-right corner of this entry to switch to the English version!
There is just a little bug, it should say "English, German" instead of "English, English".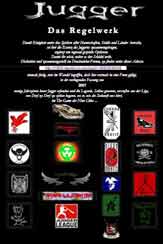 Endlich ist es soweit: Nach einer
ausführlichen Besprechung im Drachenblut-Forum
ist nun dank dem Einsatz mehrerer Sportbegeisterter (oh Wunder, sogar aus Berlin
und
Hamburg
zugleich)
das erste Jugger-Regelwerk als PDF verfügbar
, das die Spiel-Optionen der meisten derzeit aktiven Städte mit einschließt. Wie es in der Natur der Sache liegt, wird sich auch dieses weiter erweitert werden, wachsen und sich verändern. Erst einmal ist dabei aber eine gute Übersicht und Grundlage geschaffen!
Das Layout ist auch noch nicht ganz perfekt, der Textwust stellte auf die Schnelle eine kleine Herausforderung dar ... also bitte keine Buchsatzansprüche ...
Wünsche wohl zu pompfen!
The author does not allow comments to this entry