Nachdem Sanis auf Turnieren nur das Nötigste tun (müssen), es aber mit Zerrungen, Muskelkrämpfen oder auch einfach Unsicherheit bei Beschwerden durchaus darüber hinaus Bedarf gibt, würde ich gerne mal nachhören, wer von Euch mit medizinischem Hintergrund dabei wäre, sich als solcher auf Turnieren zu erkennen zu geben -- mittels (schicker Name muss sein, ist ja klar) des Ordo physicorum. Nach dem Motto: "Ich bin in bestimmten medizinischen Bereichen kompetent, Ihr könnt mich gern fragen, wenn Ihr entsprechende Beschwerden habt".
In English: Currently, I am working on founding a nation-wide "tournament medics" group. Folks who are competent in different areas of health may "advertise" that through membership, at tournaments and so be visible as advisers if players are in need (from sprung ankles to muscular pain and such). They are no replacement for standard paramedics!
Could be interesting on an international level as well. I think YouTube does do automatic translations for subs (well does it?).
⇒ YouTube: Vorstellungsvideo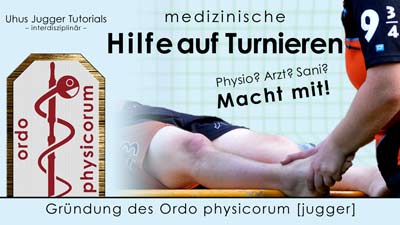 The author does not allow comments to this entry